Dear friends and colleagues,
I would like to invite you to an event with special guests of the WIENOWCHE festival that I co-curate, this year on the topic "FOREVER TOGETHER" (the festival is in Vienna):
JASMINA TEŠANOVIĆ AND BRUCE STERLING: "In Bed with the Exotic Enemy"
lecture / performance / confession:  about their unorthodox – and real – romance and their political work
Sun, 25. 9., 15:00, Ateliertheater, Burggasse 71
Free admission. Due to a limit on the number of participants, please register as soon as possible to get free ticket(s) at reservation@wienwoche.org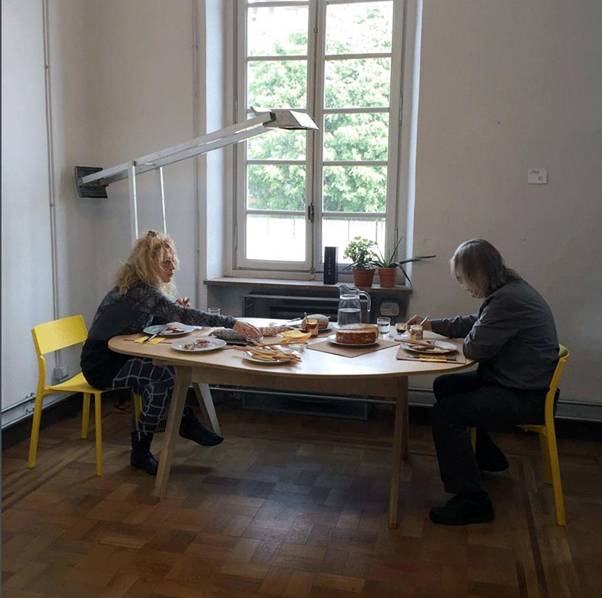 Jasmina Tešanović, Yugoslavian feminist, activist and writer, and Bruce Sterling, American writer and one of the founders of the cyberpunk movement in science fiction, have been married for many years. They first became aware of each other through the Internet, when Bruce's country was raining NATO bombs and cruise missiles down on Jasmina's country. Civil war, warlords, hitmen as well as mass killings – it was the bitter end of the Yugoslav world.
As special guests of the WIENWOCHE festival and in accordance with the event's theme of solidarity, friendship, activism and love, Jasmina and Bruce will engage in some personal confessions about their unorthodox – and real – romance. How did one unsought e-mail about state-sponsored assassinations of journalists in Belgrade lead to a placid domestic situation where two enemies wake up in bed together every morning, sharing Wi-Fi and coffee? 
"First, we were 'frenemies', then solidarity collaborators, then confidantes/friends and finally lovers/spouses. At the beginning our only possible free space was the utopian virtual playground. In the meantime, our story has become history/herstory: turning our virtual playground, the Internet, into a nation verging on political dystopia. Hence we designed a real home, Casa Jasmina, in Turin: the connected home of the future. Under a private cloud, with the open-source makers' world community. A future way of life against climate change and for the political refugees from around the globe."
Language: English
Jasmina Tešanović. Feminist and political activist (Women in Black, CodePink), a writer, journalist, musician, translator and film director. Together with Bruce Sterling and Massimo Banzi, she founded 'Casa Jasmina' in Turin, a 'connected' home of the future. Writes in English, Serbian and Italian. Publishes her works on blogs and other media; always connected to the Internet.
Bruce Sterling, born in Texas, is an author, journalist, editor and critic. He has been writing books since 1977, including 'Love Is Strange' (2012). Bruce's most recent book is a collection of Italian-themed science fiction stories, titled 'Utopia Pirata, i racconti di Bruno Argento.'  He lives in Austin, Belgrade and Turin.
DETAILED PROGRAM
Sun, 25. 9., 15:00 - 18:00
In Bed With The Exotic Enemy LECTURE, PERFORMANCE, CONFESSION
Ateliertheater, Burggasse 71, 1070 Wien
An Event With Special Guests
Followed by an open discussion:
audience comments by the festival guests
Kristian Lukić (Bratislava) and Aneta Stojnić (Belgrade)
Free admission. barrier-free.
Due to a limit on the number of participants, please register until 24/9 at reservation@wienwoche.org
----
Träger von WIENWOCHE: Verein zur Förderung der Stadtbenutzung, 1020 Wien

Gefördert aus Mitteln der Stadt Wien