Meeting Point
(2002)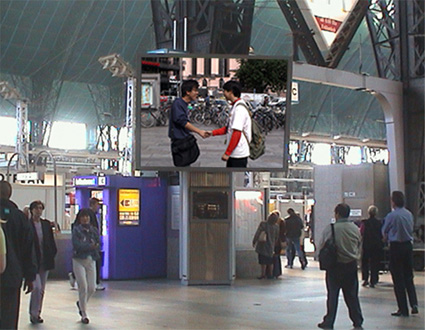 by
IRIS hoppe
Date: 15 / 04 / 02 – 31 / 05 / 02
Cities: Aachen, Berlin-Zoo, Bochum, Braunschweig, Bremen, Chemnitz, Cottbus, Dortmund, Dresden, Duisburg, Düsseldorf, Frankfurt, Hamburg, Heidelberg, Karlsruhe, Kassel, Köln, Leipzig, Lübeck, München, Oldenburg, Osnabrück, Saarbrücken, Schwerin, Stuttgart, Würzburg
Meeting Point, by artist Iris Hoppe, is a video project presented on the "Bahninform" projection screens of the German railway company, Deutsche Bahn AG. Video sequences of acts of greeting in public spaces will be displayed on the Bahninform in between the regularly scheduled information and entertainment programs. Meeting Point consists of 60 greetings between people from various cultures and generations. It is a public artwork that is integrated into the daily lives of passers-by and waiting travellers. They are confronted, in a vivid way, with personal gestures of others who are also in public situations.
Iris Hoppe's works commonly have a performative character. For the Bahninform project, she arbitrarily stopped people on the street and in various other locations in Paris, Amsterdam, Munich, Cologne and the surrounding countryside, and asked them to greet each other. The participants of the project engaged, to a certain extent, in a staged action, during which time they involuntarily become protagonists. The
public space was therefore transformed into a stage; a meeting point of interactions.


For information contact Iris Hoppe, T. + 31 (0)20 4193994 or +49 (0)221 5625276, e-mail: iris.hoppe@nonbreakingspace.org