Office tranzit.ro on Tue, 2 Jan 2018 20:15:35 +0100 (CET)

[Date Prev] [Date Next] [Thread Prev] [Thread Next] [Date Index] [Thread Index]
<nettime-ann> MQ AiR 2018 / APEL pentru APLICAȚII / CALL for APPLICATIONS
Subject: <nettime-ann> MQ AiR 2018 / APEL pentru APLICAȚII / CALL for APPLICATIONS
From: "Office tranzit.ro" <office.ro@tranzit.org>
Date: Fri, 29 Dec 2017 00:52:10 +0200 (EET)
---
.
Dragi parteneri și prieteni ai tranzit,

Numele meu este Cosmin Grădinariu și sunt PR manager al asociației  tranzit.ro. Vă contactez pentru că în trecut ați mai avut articole sau postări despre evenimentele tranzit, iar acum noi căutăm aplicanți pentru  rezidența quartier21/MuseumsQuartier din Viena pentru anul 2018.

Am aprecia dacă ați putea include sau distribui în publicația dvs, tipărită sau media, informația de mai jos despre apelul pentru aplicații. Vă trimitem textul în limba română și în limba engleză pentru a putea alege în funcție de public.

Dacă aveți întrebări, ne puteți scrie oricând.

Mulțumim și toate cele bune,
Cosmin Grădinariu
Echipa tranzit. ro
tranzit.ro
tranzit.ro pe Facebook
                                                 

Dear tranzit partners and friends,

My name is Cosmin Grădinariu and I am the PR manager from tranzit.ro. I'm contacting you today because you have previously posted about tranzit events and we are currently looking for applicants for the 2018 quartier21/MuseumsQuartier residency in Vienna.

We would appreciate if you could include or share the information listed below in your print or online media. The text is provided both in Romanian and English so you can choose the language according to your audience.

If you have any questions, please feel free to contact us.

Thank you and best regards,
Cosmin Grădinariu
tranzit. ro team
tranzit.ro
tranzit.ro on Facebook
MQ AiR 2018: APEL pentru APLICAȚII deschis până pe 28 ianuarie 2018
Artişti în programul de rezidenţă la quartier21/MuseumsQuartier Viena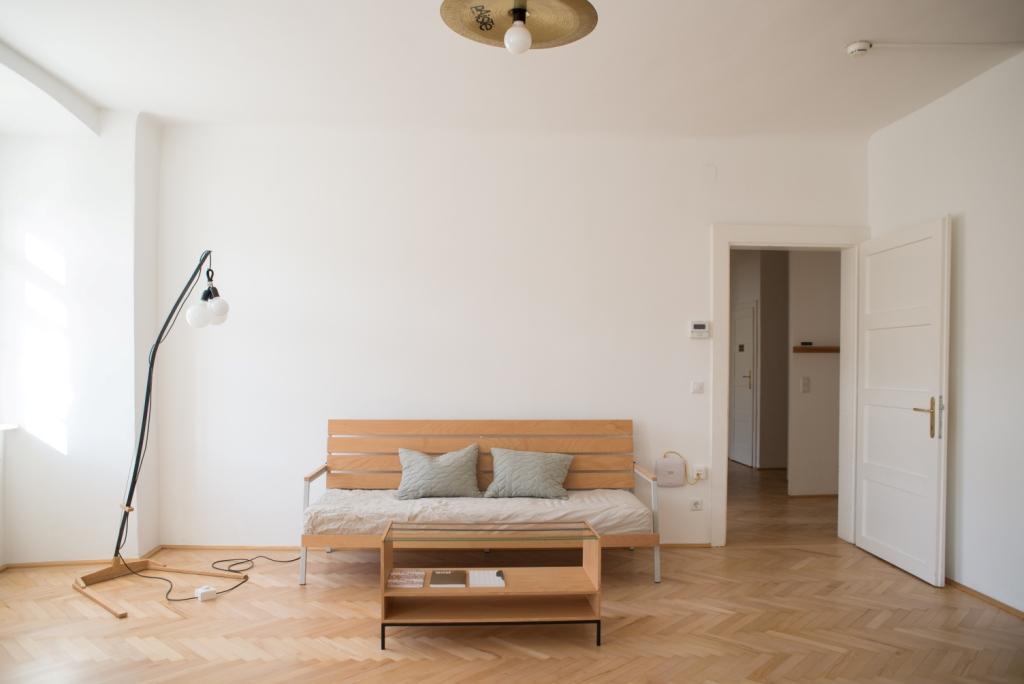 © Studio 94, Foto/ Photo: Eva Ellersdorfer-Meissnerova
[for English, please scroll down]
tranzit este o reţea formată din cinci organizaţii independente, non-profit, din Austria, Republica Cehă, Ungaria, România şi Republica Slovacă. Din 2002 tranzit dezvoltă activităţi artistice şi culturale cu o abordare critică, stimulând un dialog constant între cultura locală şi cea globală.
Programul Artists-in-Residence de la quartier21/MuseumsQuartier se înscrie în seria acestor eforturi şi oferă tinerilor artişti din Cehia, Ungaria, România şi Slovacia un atelier-apartament şi posibilitatea de a trăi şi lucra în Viena pentru o perioadă de una sau două luni. ERSTE Foundation este partenerul principal al tranzit şi oferă de asemenea finanţarea pentru programul Artists-in-Residence. Juriul pentru selectarea artiștilor este format din membri ai tranzit și ai Fundației ERSTE.
Rezidenţele sunt destinate artiştilor, curatorilor şi teoreticienilor care lucrează în domeniul artei contemporane.
Fiecare rezidenţă oferă:
• O bursă lunară de 1050 EUR
• Un atelier/apartament studio aflat la MuseumsQuartier în Viena
Aplicaţiile trebuie să include următoarele documente:
1. Formularul de aplicare digital complet (http://ro.tranzit.org/file/2018_APPLICATION_FORM_MQAIR.rtf), cu informaţiile:
• Informațiile de contact (nume, adresă, e-mail, telefon, website)
• Scrisoare de motivaţie – explicând de ce aplicaţi şi ce proiect veţi urmări în timpul rezidenţei (max. 5000 de caractere)
• Un scurt curriculum vitae informativ (max. o pagină)
2. Portfoliu (max. 10 MB)
Vă rugăm să trimiteți cele două documente doar în format PDF. Alte formate nu pot fi acceptate. Aplicanţii trebuie să fie pregătiţi să folosească rezidenţa pe toată perioada ei. Candidaţii selecţionaţi trebuie să predea un raport după finalizarea rezidenţei.
Aplicaţiile se vor trimite doar în limba engleză şi în format digital pe e-mail până la data de 28 ianuarie 2018.
Participanții selectați vor fi anunțați cel târziu până la sfârșitul lunii februarie 2018.
Vă rugăm să trimiteți aplicația în format digital cu subiectul "MQ AiR 2018" la adresa:
pentru România (septembrie, octombrie, noiembrie, decembrie 2018):
office.ro@tranzit.org
Pentru mai multe întrebări, vă rugăm să contactaţi pe Michaela Geboltsberger/ tranzit. at:
geboltsberger@tranzit.org
tranzit
ERSTE Foundation
Museumsquartier Wien
MQ AiR 2018: CALL for APPLICATIONS is now open until 28 January 2018
Artists-in-Residence programme of tranzit and ERSTE Foundation at MuseumsQuartier in Vienna
tranzit is a network of five independent, non-profit organisations in Austria, Czech Republic, Hungary, Romania and Slovak Republic. Since 2002 tranzit has been developing artistic and cultural activities with a critical approach, fostering a permanent dialectic between local and global culture.
The Artists-in-Residence programme at quartier21/MuseumsQuartier in Vienna is part of this endeavour and provides young artists from Czech Republic, Hungary, Romania and Slovak Republic with a guest studio and the opportunity to live and work in Vienna for the period of one or two months. ERSTE Foundation is the main partner of tranzit and also provides support for the Artists-in-Residence programme. The jury for selecting the artists consists of members of tranzit and ERSTE Foundation.
The residencies are designed for artists, curators and theoreticians working in the field of contemporary art.
Each residence offers:
• a monthly stipend of 1050 EUR
• a studio space to live and work in the MuseumsQuartier in Vienna
Applications have to include the following documents:
1. Complete digital application form (http://ro.tranzit.org/file/2018_APPLICATION_FORM_MQAIR.rtf), including the following information:
• Your contact information (name, address, e-mail, phone, website)
• Letter of intent explaining why you apply and what you expect. What would you like to focus on during the residence (max. 5000 characters)
• Brief informative curriculum vitae (max. 1 page)
2. Portfolio (max. 10 MB)
Please send the two documents as PDF. Other formats cannot be accepted. Applicants should be prepared for the requirement to use the residence in its full length. Accepted applicants are required to hand in a written report after completion of the residence.
Applications are accepted only in English and by e-mail until: January 28, 2018.
Selected participants will be notified latest until end of February 2018.
Please send your application with subject "MQ AiR 2018" to:
for Romania (September, October, November, December 2018):
office.ro@tranzit.org
For further questions please contact Michaela Geboltsberger/ tranzit. at:
geboltsberger@tranzit.org
tranzit
ERSTE Foundation
Museumsquartier Wien
_______________________________________________
nettime-ann mailing list
nettime-ann@nettime.org
http://www.nettime.org/cgi-bin/mailman/listinfo/nettime-ann

---