PLEASE SCROLL DOWN FOR THE ENGLISH VERSION

Art Laboratory Berlin lädt Sie/ Euch herzlich ein zur Kuratorenführung von NatureCultures
am 24. Juli 2016 um 14 Uhr. Die von Regine Rapp & Christian de Lutz kuratierte Ausstellung findet
in der Alfred Ehrhardt Stiftung, Auguststr. 75, 10117 Berlin, statt. Voranmeldung per e-Mail.:
info@alfred-ehrhardt-stiftung.de

Art Laboratory Berlin would like to cordially invite you to a curators' talk and tour of the exhibition NatureCultures
curated by Regine Rapp & Christian de Lutz at The Alfred Ehrhardt Foundation, Auguststr 75,
10117 Berlin on 24 July, 2016 at 2PM Please register per e-mail: info@alfred-ehrhardt-stiftung.de



Brandon Ballengée, Ghosts of the Gulf: RIP African Pompano , 2014, Giclée-Druck auf handgeschöpftem japanischen Reispapier, 45,7 x 61 cm, © Brandon Ballengée / Courtesy Ronald Feldman Fine Arts, New York, NY


Kuratorenführung – NatureCultures mit Regine Rapp & Christian de Lutz
Am Sonntag, 24. Juli 2016 um 14.00 Uhr | Eintritt frei | Wir bitten um Voranmeldung per e-mail.

Die Gastkuratoren Regine Rapp und Christian de Lutz führen durch die Ausstellung NatureCultures. Während eines Rundgangs werden die ausgestellten Werke vorgestellt und gemeinsam mit dem Publikum diskutiert. Die Kuratoren werden darüber hinaus auch das Ausstellungskonzept und ihre Arbeit bei Art Laboratory Berlin kurz vorstellen.

Die Ausstellung NatureCultures untersucht die verflochtene Struktur menschlicher und nichtmenschlicher Akteure im 21. Jahrhundert. Der Ausstellungstitel bezieht sich auf den gleichnamigen Begriff der amerikanischen Wissenschaftlerin Donna Haraway, die für eine Überwindung der unproduktiven Dichotomie von Kultur und Natur appelliert. Die Auswirkungen menschlicher Technologie dringen in alle Bereiche der Umwelt ein und verändern das Gleichgewicht und damit auch den Aufbau dessen, was wir einmal "Natur" nannten. Das Ausstellungsprojekt stellt drei Künstler vor, die den Bereich zwischen Naturwissenschaft und künstlerischer Forschung sowie die Schnittstellen von Kultur und Natur erkunden.

Lokale, ortsspezifische Themen aus Mexiko, stellen die Grundlage für Katya Gardea Brownes hochästhetische Arbeiten in Fotografie und Video dar. Um die bekannte Dichotomie Natur und Kultur zu überwinden, konzentriert sie sich auf präkoloniale (agri)kulturelle Praktiken. Pinar Yoldas erkundet in ihrer künstlerischen Praxis die Verbindung zwischen Technologie und Natur. Bei ihren Recherchen zur technologisierten Natur bewegt sie sich nicht selten im Bereich des spekulativen Designs. Als Künstler und Biologe beschäftigt sich Brandon Ballengée gleichermaßen mit den Bereichen Natur, Naturwissenschaft und Ökologie. Die von ihm reaktivierte naturwissenschaftliche Methode des 'Säubern & Färben' nutzt er auf künstlerischer Ebene, um großformatige Portraits deformierter Frösche zu schaffen.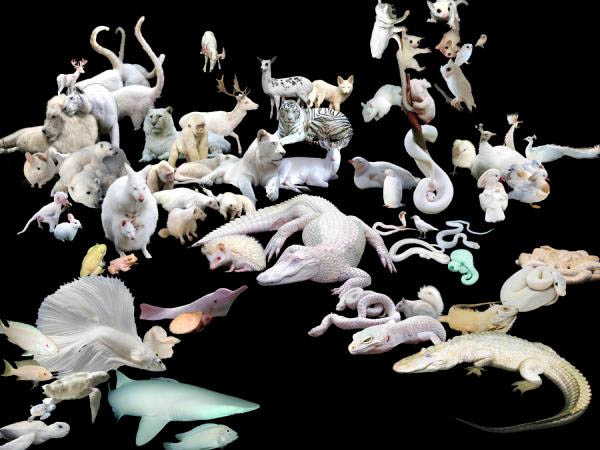 Pinar Yoldas, Regnum alba , 2014, Druck auf Hadernpapier, 85 x 115 cm, © Pinar Yoldas

NatureCultures – Guided tour with the curators Regine Rapp and Christian de Lutz

Sunday, July 24, 2016, 2 pm | Admission free | Please register per e-mail.
The guest curators, Regine Rapp and Christian de Lutz, will give a tour of the exhibition NatureCultures. During the tour the individual works will be presented and discussed with the public. The curators will also talk about the exhibition concept as well as their work at Art Laboratory Berlin.

The exhibition NatureCultures explores the interwoven fabric of both the human and nonhuman in the 21st century. The exhibition title refers to a term coined by the American scholar Donna Haraway, which seeks to overcome the unproductive dichotomy of nature and culture. The side effects of human technology intrude into every environment, altering the balance, and even the make up of what we once called nature. The exhibition presents three artists who explore a realm between science and artistic research as well as between natural and cultural forms of inquiry.

Local, site-specific topics from Mexico, provide the basis for Katya Gardea Browne's strongly aesthetic works in photography and video. To overcome the well-known dichotomy between nature and culture, her work often highlights pre-colonial (agri)cultural practices. Pinar Yoldas explores the link between technology and nature in her diverse artistic practice. In her search for a technologised nature she often works in the area of speculative design. As an artist and biologist Brandon Ballengée engages equally with the fields of nature, science and ecology. In his work he uses the scientific method of 'clearing and staining' (which he has reactivated) on an artistic level in order to create large-scale portraits of deformed frogs.


---

Katya Gardea Browne, Xochimilco, Diptychon, 2014, 120 x 160 cm, © Katya Gardea Browne

Weitere Veranstaltung:

Sonntag, 4. September, 14.00 Uhr: Finissage und Kuratorenführung mit Regine Rapp & Christian de Lutz
Der Eintritt ist frei. Wir bitten jeweils um Voranmeldung per e-Mail.
---
Next event:
Sunday, 4 September 2016, 2 pm: Finissage and guided tour with Regine Rapp & Christian de Lutz
Admission free. Please register per e-mail.
In Zusammenarbeit mit | In cooperation with


---
Alfred Ehrhardt Stiftung
Auguststr. 75
10117 Berlin
Tel: 030 / 200953-33, Fax -34
info@alfred-ehrhardt-stiftung.de
www.alfred-ehrhardt-stiftung.de

Mit freundlicher Unterstützung der

Wenn Sie unsere Einladungen zu Ausstellungseröffnungen und weitere Informationen zu Veranstaltungen nicht mehr erhalten wollen, senden Sie uns bitte eine Antwortmail mit der Betreffzeile "unsubscribe". Wir werden Ihre Adresse dann aus unserem Verteiler nehmen. Wenn wir nichts von Ihnen hören, werten wir dies als Ihr Interesse und informieren Sie weiterhin gern.



Regine Rapp, Christian de Lutz
Prinzenallee 34, 13359 Berlin
www.artlaboratory-berlin.org
presse@artlaboratory-berlin.org