Thyes Myriam on Thu, 17 Dec 2009 17:11:14 +0100 (CET)

[Date Prev] [Date Next] [Thread Prev] [Thread Next] [Date Index] [Thread Index]
<nettime-ann> FLAG METAMORPHOSES - call for participation - Flash animations
---
.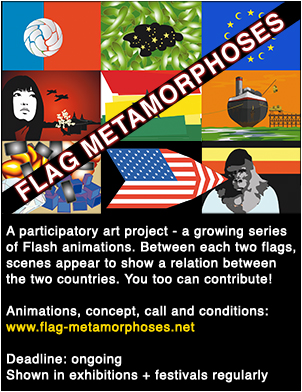 CALL FOR ENTRIES  (please spread):

FLAG METAMORPHOSES

http://www.flag-metamorphoses.net

Next deadline:  March 30, 2010  (and ongoing)


Flag Metamorphoses is a participatory art project - a continuously growing series of animations with many authors: The flags of every nation in the world will transform into each other through flash animations. Between each two flags, scenes appear to show an aspect of the relations between the two countries - an exploration into the meaning of imagery on flags, aiming to create interrelated associations through questioning, reassessing, fluidizing and re- mixing of diverse national iconography. Flag Metamorphoses lays stress on the relations between nations as changing ones. Each artist who creates a flag animation expresses such a relation in his/her own way. You too can contribute!
To find out how to participate, to see Flash flag animations, the list of exhibitions and festivals, and to read the full concept, please visit: www.flag-metamorphoses.net

________________________

Myriam Thyes
Himmelgeister Str. 107 F
40225 Dusseldorf
Germany

Phone: +49-211-9053500
myriam@thyes.com
www.thyes.com


Attachment: flag-metamorphoses-call.pdf
Description: Adobe PDF document
_______________________________________________
nettime-ann mailing list
nettime-ann@nettime.org
http://www.nettime.org/cgi-bin/mailman/listinfo/nettime-ann

---