FOR IMMEDIATE RELEASE
CHICAGO IL
Creating Unique Event Experiences
Written by Jameson Wallace
Professor, School of the Art Institute of Chicago
Advertisers designing retail spaces have coined the term "Experience Design" to describe the full coordination of the digital technology used in the store.
Event producers on the other hand create temporary versions of these designed experiences, and with the proliferation of digital devices into nearly every area of our lives, those that produce large-scale multimedia events are increasingly looking to new emerging media forms to enhance the excitement of participants.
Event producers like Psymbolic's Troy Milstead and Julee Wood orchestrate mediums such as music, video, lighting, digital kiosks, flat panel televisions, mobile devices, camera crews, actors, interior decorating, installations, sculptures and web-enabled interactive custom devices.
"As artists, we strive to create something that engages an audience and captures their imagination without distracting them from the social environment around them." Troy explains.
In 2008 for the first time, the Chicago Convention & Tourism Bureauintegrated live video projection and new media elements into their annual Burnham Bash by working with Psymbolic. This annual event is a gathering of approximately 1,000 of Chicago's top industry professionals and decision makers as well as distinguished representatives from government, non-profits, civic organizations and the media.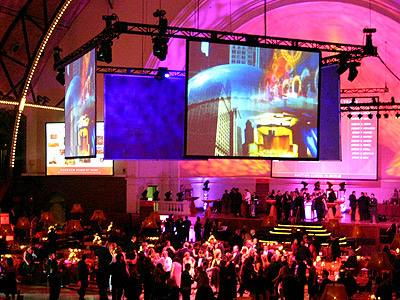 In follow up to the gala, creative director, Rani Woolpert expressed, "Psymbolic mixed a gorgeous canvas of imagery that played out beautifully in the space. I loved the montages of four images at a time. They were like master canvases. Combined with the lighting, the video canvases you created put guests into a rich landscape of color and a celebration of Chicago as a beautiful city. The space seemed to inspire people."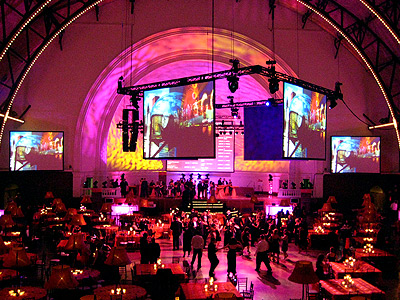 Rani continued, "I spoke with at least two individuals who have produced events in the Navy Pier's Grand Ballroom who said they had never seen it look like that. I wish you could have seen the look in the eyes of the person I was talking with, who is the president of one of the leading destination management companies in the city. He was just in love with the room. You get the idea. I am still living in the painting, and it is beautiful. Thank you for your professionalism and aesthetic sensibilities. I am so glad you were available for this event! To many more!!!"
Another event being an award ceremony put on by 40 North | 88 West - Champaign County's Arts Council presents the ACE Awards for recognition in Arts, Culture and Entertainment given out annually during the National Arts & Humanities Month.
In 2008, 40 North called upon Psymbolic to create an effective way to capture, display and visually communicate the award ceremony. What was being awarded, the meaning of the award, and the background information about the award winner was visually delivered to multiple rooms of the venue uniting the entire audience. Following the award ceremony, Psymbolic performed again during the after party showing real time visuals coordinated to live performances and diverse music.
In follow up to the award ceremony, director of operations, Steven Bentz expressed, "I want to thank Psymbolic again for the outstanding efforts surrounding last week's 40 North ACE Awards. Your video elements helped make this year's ceremony a complete success and something that people around the community are still commenting on." The Champaign News-Gazette, in one of their two follow-up articles praised the "glitzy" production values at the event.
Steven continued, "[Psymbolic's] excellent pre-production and live execution gave the ACE Awards a much greater impact for people attending the event, and we can't thank you enough for your support. With your help, 2008 was the smoothest, most effective ACE Award presentation yet."
Psymbolic has been invited to design the experiences of both events again this year.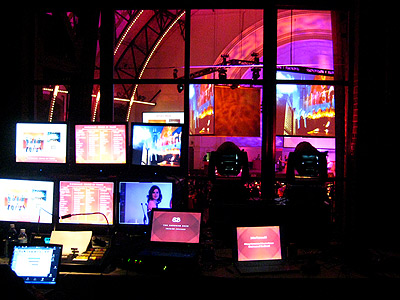 With the ever increasing speed of computer processors and mobile devices, these technologies offer a bold new palette of options for event architects.
"We're living in a time where computers are finally fast enough to be used for high-resolution realtime visual performance." commented Troy. "There's nothing quite like the feeling of introducing something new and witnessing the amazement. The art and challenge is to create visual environments that synchronize with the mood of the moment."
Psymbolic started out as an artist name for Julee & Troy (soon to be renamed V-DUO) and over the past decade Psymbolic has evolved into a Multimedia Label representing a select roster of audio, visual and multimedia artists that go above and beyond to create memorable events.
You can learn more about these newest changes in multimedia event production at Psymbolic's nationally touring Motion Graphics Festival. The Festival offers educational workshops on many of the technologies used to create unique event experiences in addition to showcasing the explosive artists and creators that develop them.
http://www.psymbolic.com/artists/psymbolic_visuals/creating_unique_event_experiences